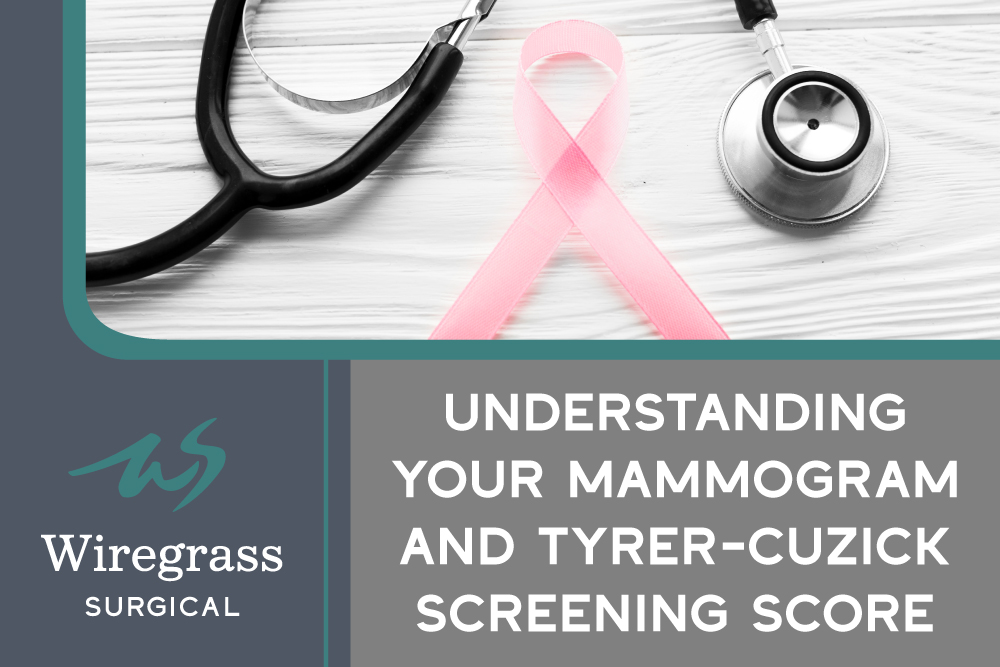 Understanding Your Mammogram and Tyrer-Cuzick Screening Score
When you get a scheduled mammogram, you are also asked several questions about your medical history and family history to help doctors identify your risk of breast cancer.
These questions and answers are important and generate what is known as the Tyrer-Cuzick score, which measures the likelihood that a person will have specific gene mutations related to breast cancer. The Tyrer-Cuzick model, or international breast cancer intervention study tool, is a calculation to estimate the likelihood that you could develop breast cancer in the next 10 years as well as over your lifetime. 
It helps doctors identify those at high risk and those who may need additional screening or screening more often. 
Calculating your Tyrer-Cuzick Score
To calculate a person's Tyrer-Cuzick score, your family history and potential risk factors must be accounted for. 
Things that are noted and affect your score include your:
Age

Height and weight

Breast density

History of breast biopsies and results

Personal history of breast or ovarian cancer

Family history of breast or ovarian cancer

Hormone therapy or use

Heritage

Age of your first menstrual period

Age when you first gave birth

Age of menopause (if applicable)
Results
Your results will put you into one of three categories: average, intermediate or high risk. 
Average risk is a person with a score of less than 15% and indicates that they do not need additional tests outside of what is generally recommended. The American Cancer Society recommends people at average risk have annual mammograms beginning at age 40.
If a person is at intermediate risk, they have a score of 15-19% and doctors may recommend additional testing for some at this risk level, for example those with dense breast tissue. 
Doctors consider a score of 20% or higher, high risk. They recommend women in this group get additional screening tests every year such as a breast MRI and/or have further recommendations such as supplemental ultrasound testing. 
Anyone who has a mammogram that has received a score of 20% or higher, is referred to Wiregrass Surgical for our doctors to evaluate and manage their breast health long term, and/or treat (if necessary) breast cancer.
What does this mean for our high risk patients? It means our doctors will follow and meet with you annually, or every 6-months to schedule your screenings. 
When to contact Wiregrass Surgical
If you are receiving a mammogram soon, be sure to ask your provider what your Tyrer score is. Or if you have not received this in the past, and are curious about your genetic risks of getting breast cancer, call our office today. 
Patients are referred to us daily with high risk Tyrer-Cuzick scores, however this assessment is not a diagnostic tool and should not replace full screenings like mammograms. 
Our surgeons can recommend and help with:
Breast cancer

genetic testing

Imaging tests such as MRI and ultrasound

Physical exams

Risk assessment

Generating your personal Tyrer-Cuzick Score
Our general surgeons specialize in the diagnosis and treatment of breast cancer. We team up with pathologists, oncologists, radiologists and plastic/reconstructive surgeons to create personalized breast cancer treatment and management plans for our patients. 
For more information, or to book an appointment with a Wiregrass Surgical general surgeon, call our office today.
Learn more about why monthly self breast exams are so important and check out our blog for more resources about breast cancer and breast health.