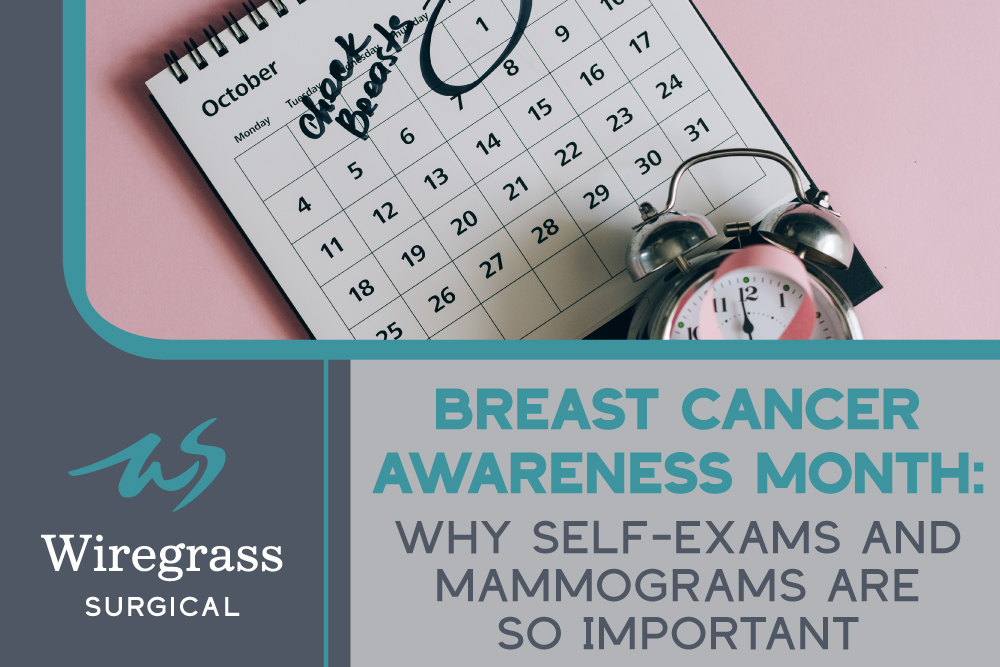 Breast Cancer Awareness Month: Why Self Exams and Mammograms are so Important
While breast cancer can't be prevented, you can take important steps to have it detected earlier! 
It is encouraged that women of all ages perform breast self-exams once a month and women over 40 have a mammogram every 1-2 years.
Forty percent of diagnosed breast cancers are detected by women who feel a lump or bump, so self-exams are very important. Mammograms can help detect cancer before you feel the lump, but self-exams allow you to be familiar with how your breasts look and feel so you can notice any changes.
Since October is breast cancer awareness month, we want to highlight the importance of self exams and mammograms and how they just might save your life…
When and how should you perform self-exams?
The National Breast Cancer Foundation recommends doing self-exams in the shower, in front of a mirror or while laying down.
With the pads of your three middle fingers, press down with light, medium and firm pressure around the entire breast and armpit area to feel for any lumps, knots or thickening areas. 
Look in the mirror for any changes in contour, any dimpling of the skin, swelling, or changes in the nipples. 
To get the breast tissue to spread out evenly along the chest wall, lay on your back and place a pillow under your right shoulder with your right arm behind your head. Use your left hand to feel the entire breast area and armpit. Squeeze the nipple and check for discharge and lumps. Repeat on the left side.
What is a mammogram and why do you need it?
A mammogram is an x-ray that examines the breast tissue for any suspicious areas. They can show lumps before they appear and can also show tiny clusters of calcium called micro-calcifications. Many times lumps can be caused by cancer, fatty cells or other conditions like cysts. Biopsies or other tests may be necessary to find out if abnormal cells are cancerous. 
It is recommended that women over age 40 have mammograms every 1-2 years and women who are younger than 40 that have risk factors for breast cancer talk to their doctor about earlier testing.
What happens if my mammogram is abnormal?
If your mammogram shows an abnormal area, your doctor will likely refer you to our clinic to order additional tests that offer a more clear, detailed image. 
The general surgeons at Wiregrass Surgical specialize in the diagnosis and treatment of breast cancer. Our approach is comprehensive and collaborative as we team up with a pathologist, oncologist, radiologist and plastic/reconstructive surgeons to create a personalized plan for your care. 
Services and procedures related to breast cancer that our surgeons perform include:
Ordering additional tests such as an ultrasound, MRI or biopsy

Risk assessment

Genetic testing

Surgery to remove the cancer when necessary

Follow up after surgery for the lifetime of our patients
Serving patients in the Wiregrass community and surrounding areas who are fighting breast cancer is something our surgeons are passionate about. 
Our entire staff is here for you each and every step along the way, as scary as it may seem.
If you need help setting up your mammogram, or have noticed any lumps, bumps or abnormal breast tissue, call our office today or set up an appointment online.