Comprehensive Vascular Care
Get beyond the issues and on with your life.
Wiregrass Surgical's approach to vascular care can be summed up in four words: Comprehensive, compassionate, competent, and committed.
Our vascular surgeon is a specialist trained to treat the full spectrum of diseases of the arteries and veins outside of the heart. His mission is to promote the prevention and treatment of vascular disease in a cost-effective, high-quality manner, using the most advanced techniques and technology available.
Discover the treatments we provide, the conditions we treat, and how we're different from other vascular care centers. All wrapped up in our distinguished Lifetime Commitment to your vascular health.
Non-Invasive Vascular Diagnostic Lab Services
Diagnostic Ultrasounds
Routine Disease Management Studies
Venous Insufficiency Evaluations
Varicose Vein Evaluations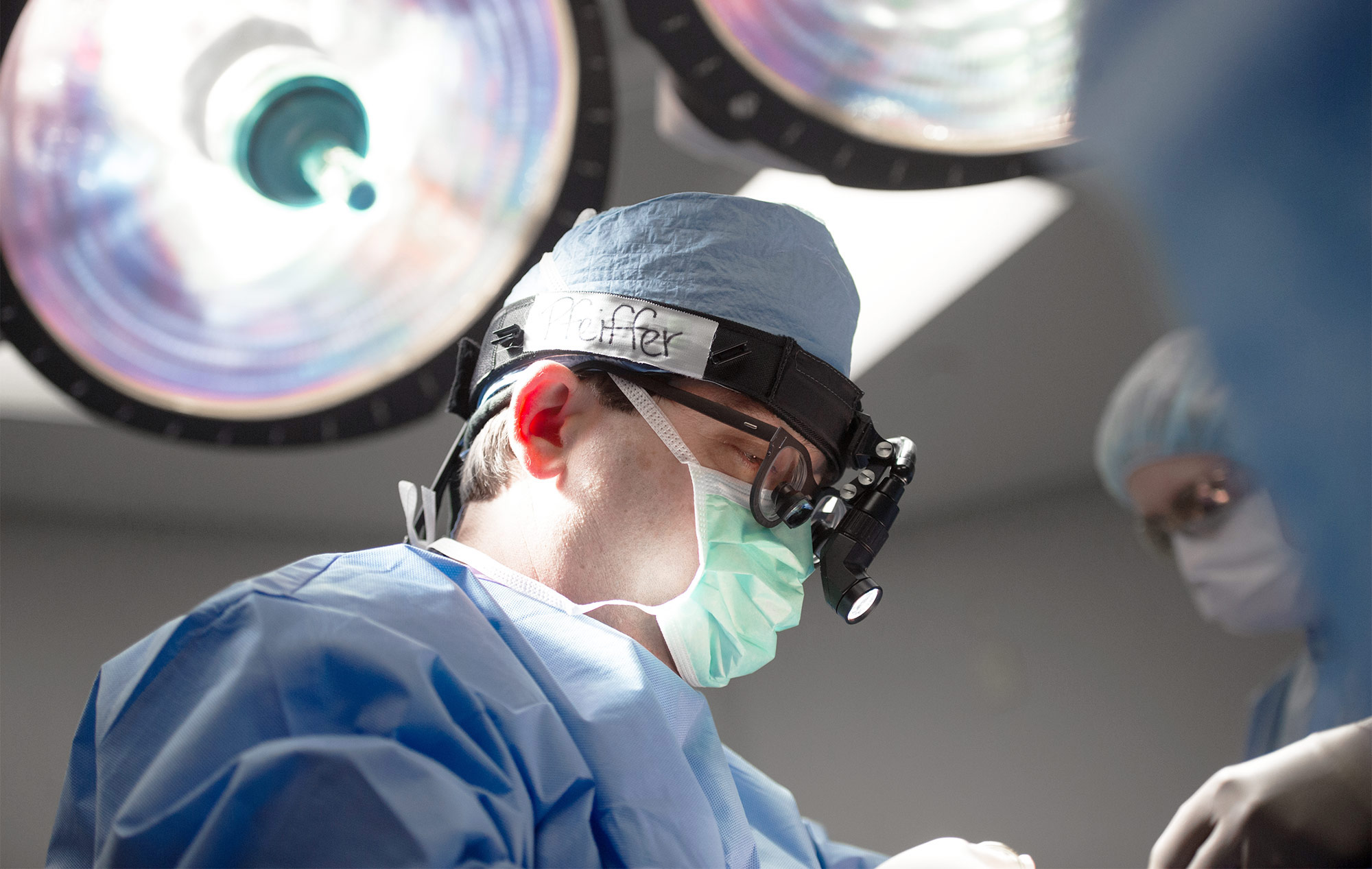 Dr. Pfeiffer: the Right Specialist, the Right Treatment, for the Right Person—You.
As the first Board Certified Vascular Surgeon in Dothan, Alabama, Dr. Pfeiffer, FACS has extensive experience treating vascular conditions. When you see Dr. Pfeiffer, you're ensured that the right procedure will be done at the right time for the right reasons. He is a vascular specialist trained in all treatment options, so you won't be pushed into a particular procedure. Dr. Pfeiffer has the entire "toolbox," so together we can choose the right option for you, even if that option is conservative management.
Many of the procedures performed by Dr. Pfeiffer are minimally invasive, using special balloons, stents, and catheters to open up blockages to arteries. These "endovascular" procedures typically mean less recovery time, no anesthesia, and fewer potential complications — setting you on the path to recovery as smoothly and successfully as possible.
What is a Vascular Surgeon?
They are specialists who have had extensive additional training meeting the highest standard of surgical education and fellowship training specifically in the comprehensive care of all vascular patients.
They are experts in conservative management of vascular problems.
They are trained to perform all available minimally invasive and operative options for the treatment of vascular disease.
Vascular surgeons are the only specialists who provide the complete spectrum of care for vascular disease
Practice dedicated entirely to the treatment of Vascular Disease
Board Certified in the treatment of Vascular Disease
Performs non-operative/conservative management of Vascular Disease
Expert in operative/surgical bypasses and experts in limb salvage
Experts in minimally invasive non-operative treatments: Stents/Balloons/Removal of Plaque
Experts in surgical cleaning out of blocked arteries when needed: Carotid and Peripheral Artery Endarterectomy.
Qualified to treat complications arising from vascular procedures and other specialties catheterization complications
Qualified vascular wound specialist
Designed and developed the dedicated vascular non-invasive laboratory
Follows vascular patients and their disease throughout their life: essential for management and establishing best outcomes
Vascular specialists provide all treatment options for vascular patients: they utilize the most appropriate treatment options and do not try to fit a patient into a particular procedure as other specialists may
Pioneers in Vascular Care.
At Wiregrass Surgical, we're passionate about bringing the latest surgical advancements to our patients. Here are a few ways we're on the leading edge of vascular care:
First to Bring New and More Advanced Endografts to Dothan: Used to treat abdominal aortic aneurysms, the minimally invasive endograft procedure involves placing an expandable stent graft inside the aorta without operating directly on the aorta. The obvious advantage of the aortic endograft is that no abdominal incision is required. Recovery from the operation is considerably shorter than with traditional (open) aortic aneurysm surgery.
First to Bring Modern Carotid Stenting to Dothan: Strokes result from hardening of the carotid arteries. They can be prevented by cleaning out these arteries surgically. Sometimes, however, patients aren't good candidates for the carotid operation. When that's the case, stenting is an alternative option. Because the stent is placed into the carotid artery via a catheter, this technique does not require surgery and is considered a significantly less invasive procedure than is carotid endarterectomy.
Minimized Incision Length for Carotid Endarterectomy: Most recently, when anatomically appropriate, Dr. Pfeiffer has successfully deployed a much smaller incision when performing this procedure. It's less than half the length of the standard incision which has resulted in quicker healing and less scarring. Click here for comparative photos.
24/7 Lifetime Commitment to Comprehensive Vascular Care: Before and during treatment, and for the rest of your life, you have access to follow-up vascular care. The type commitment we have here is a bold and unique pledge in today's medical world. However, Dr. Pfeiffer believes that lifetime management and detailed follow-up care allows us to gain the best understanding of your condition so we can appropriately manage your needs and vascular disease.
Developed First Vascular/Endovascular Hybrid Suite in the Wiregrass: Containing state-of-the-art surgical and imaging equipment, a hybrid suite allows a vascular specialist to perform both traditional open and minimally invasive endovascular procedures at the same time in the same place. Patients benefit from shorter procedure times, more minimally invasive techniques, and faster recovery.
One of Only a Few Accredited Vascular Labs: Trust your care to one of just a few nationally accredited vascular labs in the Wiregrass. Within our office, Dr. Pfeiffer and his staff are able to diagnos and perform follow-up care within their own accredited facility. Having this access allows us to deliver better quality and continuity of care. It is just one more way Dr. Pfeiffer is equipped to better manage comprehensive vascular diseases.
Patient Success Story.
Evidence-based results from actual human beings are always the most compelling. That's why we're pleased to share these stories from our very own Wiregrass Surgical patients.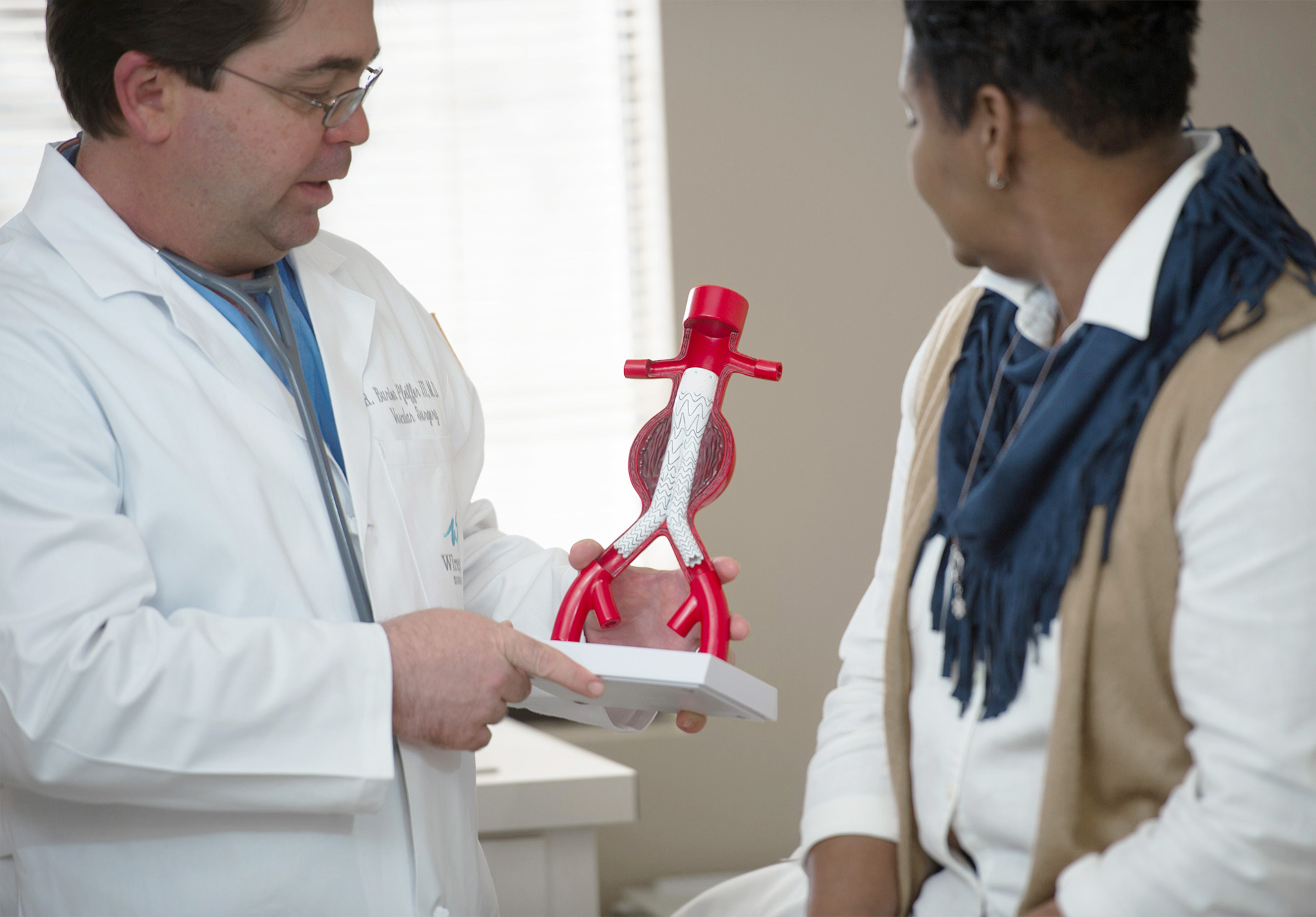 From admissions to discharge, the care I encountered was top-notch!
"I had an aneurysm discovered by an ultrasound. I was lucky doctors found this early and I underwent an abdominal aneurysm repair at Flowers Hospital performed by Dr. Pfeiffer. The preoperative team made me feel comfortable and confident. After surgery, my primary nurse took charge of my care from the time I reached the floor to discharge. Several months have passed since my surgery and hardly a day goes by that I do not give thanks to God that I indeed have a second chance and a new lease on life. I would be remiss not to share my appreciation of Flowers Hospital, Dr. Pfeiffer and wonderful nurses for the top-notch care." – Jack Cook
Treatments We Offer.
From aneurysm repair to wound management to limb salvage, Wiregrass Surgical has the skills and expertise to take care of your specific vascular medical condition. We look forward to discussing treatment options with you.
An aneurysm is a bulging, weakened section of a blood vessel wall that forms in the aorta, the body's largest artery that runs from the heart through the chest and down into the abdomen. Repair is needed to prevent rupture and possible death. Treatment for an aneurysm varies according to its severity and size. If a rupture is not imminent, it may be decided to monitor the growth of the aneurysm using ultrasound and CT scans, and attempt to decrease the pressure on the aneurysm using medication to lower the blood pressure. Others, however, may need immediate repair. In some cases, a minimally invasive procedure called Endovascular Aortic Endograft repair may be performed.
This is a minimally invasive way to repair aneurysms using a graft. For aortic aneurysm repair, endovascular stent graft insertion is often used in patients whose overall health may make open surgery too dangerous. Studies of the procedure suggest that it carries a low risk of complications and has a very good success rate. It also has a significantly shorter recovery time than a conventional open surgery approach, requiring only an overnight stay in the hospital.
Balloon angioplasty (also called simply angioplasty) is a nonsurgical procedure to open blocked or narrowed arteries. It is used to treat severely blocked arteries in various parts of the body. The procedure involves threading a catheter with an inflatable balloon-like tip through the artery to the area of blockage. The balloon is inflated, flattening the fatty deposits and widening the arterial channel, allowing more blood to circulate. In addition, a small mesh tube called a stent may be inserted to keep the artery open and prevent future blockages.
Stents — slender metal-mesh tubes that fit inside an artery to keep it open and allow blood to flow past blockages — can be used in the carotid arteries leading to the brain. This helps prevent strokes in the future. This is also a minimally invasive treatment option for appropriate selected patients.
Atherosclerotic plaque buildup in the carotid (neck) arteries can block blood flow to the brain and result in mini-strokes/transient ischemic attacks (TIAs), or a permanent disabling stroke. Carotid endarterectomy is the gold standard treatment for surgical removal of the plaque in the carotid artery that causes these strokes. During this procedure, an incision is made in the neck which allows for the removal of the plaque from the inner lining of the carotid artery.
Arteriovenous (AV) fistula is the connection of an artery to a vein, usually in the forearm. It is used to prepare a patient for dialysis. Creating this connection causes extra blood to flow through the vein, which makes it grow larger and stronger and allows for repeated use during dialysis. Untreated veins cannot be used for repeated dialysis because they would collapse. AV fistulas are considered the most ideal type of vascular access because they provide good blood flow, they are the least likely type to become infected or cause clots, and they last the longest.
When a portion of an artery in an extremity is narrowed or blocked, it may result in symptoms that are life-limiting or limb-threatening. Sometimes the best option to improve circulation or save a limb is to perform a surgical bypass around the narrowed or blocked vessel with either a manufactured graft or the patient's own vein. Of the many procedures Dr. Pfeiffer specializes in, this is his area of expertise.
Deep Venous Thrombosis is the formation of a clot in a vein deep in the body, usually in the lower leg, thigh, or pelvis. Blood clots may form when the blood does not flow properly, as occurs in people with chronic venous insufficiency. During thrombolysis, abnormal clots in blood vessels are broken up with small devices or clot-dissolving medications.
The majority of wounds found in the lower extremities are a direct result of vascular diseases. Dr. Pfeiffer is an expert in the management of complex wounds of the lower extremities and frequently sees venous ulcers, toe and foot wounds, gangrene, diabetic foot infections, and other life- and limb-threatening extremity problems.
Always a last resort, amputation is the surgical removal of a body part. This is usually due to irreversible vascular disease/gangrene in a limb, and is done to save a life, or to prevent life-threatening infection. This procedure is performed only if no other options are available.
These large, bulging veins in the legs can cause many different symptoms and can occur in almost anyone. Often hereditary, varicose veins affect up to 35% of people in the U.S.
Our Affiliations.
Working together with members of national, state, and regional associations makes us stronger and better able to treat our patients successfully. The following are Dr. Pfeiffer's society memberships and active affiliations:
Fellow of the American College of Surgeons
Southeastern Surgical Congress
Society for Vascular Surgery
The Vascular and Endovascular Surgical Society
Medical Association of the State of Alabama
Houston County Medical Society
President, Alabama Vascular Society
Board Member, Alabama Vascular Society