Our Robotic Surgery Program
State-of-the-art in every way. 
Welcome to our Robotic Surgery program at Wiregrass Surgical.
Here we'll explain why our program is among the best in the nation, how the da Vinci robotic surgery platform works, how it's different from laparoscopic surgery, and some impressive evidence-based results.
Triple the Technology
In 2016, our facility became the very first Community Health Systems hospital — out of 159 across the country — to support three da Vinci robots!
da Vinci Robotic Surgery Procedures:
Inguinal Hernia Repair
Ventral Hernia Repair
Umbilical Hernia Repair
Nissen Fundoplication (Anti-Reflux/ GERD)
Colon Resection (Right/Left/Sigmoid Colectomy, LAR, APR)
Gastrectomy (Sleeve)
Single-site Cholecystectomy (Gall Bladder Removal)
Splenectomy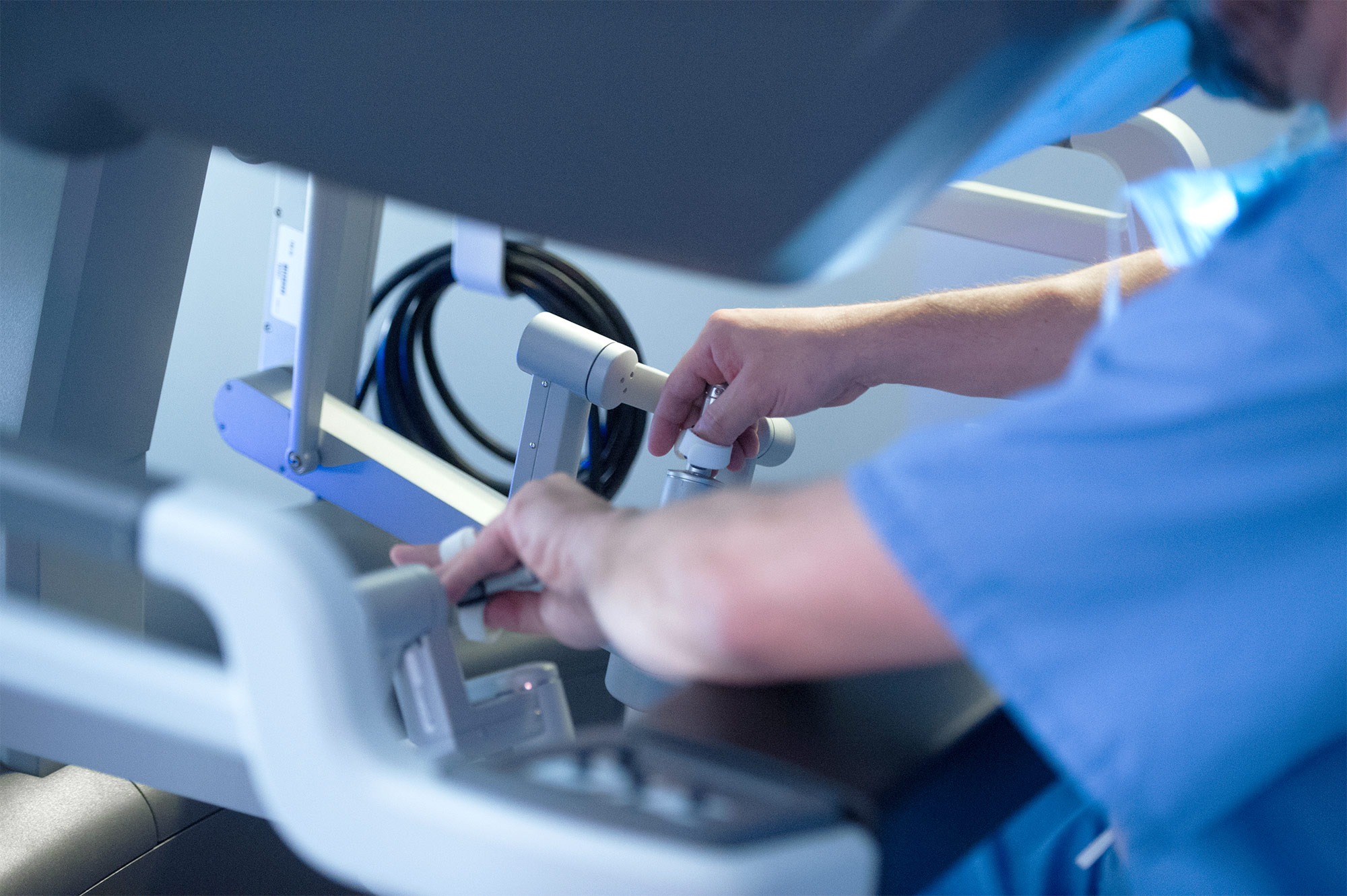 The rock stars of robotics: Nationally recognized as best in class
Here at Wiregrass Surgical, we have the honor of performing more robotic surgeries than any other practice in the Southeast. In fact, we're in the nation's top 5% volume-wise when compared to other general surgeons. Because we're an accredited Case Observation Site for Hernia Repair, fellow surgeons from around the country fly here to learn our renowned technique for repairing hernias.
We don't say all of this to brag. We mention these facts because as with any other skill, the more you perform the quicker you advance. Our surgeons are extremely experienced, and often our patients recover faster — with decreased operative time, less time in the hospital, less blood loss, significant reduction in post-surgery pain medication needed, and smaller incisions. And we have the data to prove it.
Our best-in-class expertise means our patients get the best outcome. At the end of the day, that's what really matters.
Meet da Vinci: State-of-the-art surgical robotics
When you think about a robot performing surgery, do you picture a scene from a science-fiction movie? Let's talk about this, because robotic surgery is certainly scientific, but definitely not fiction.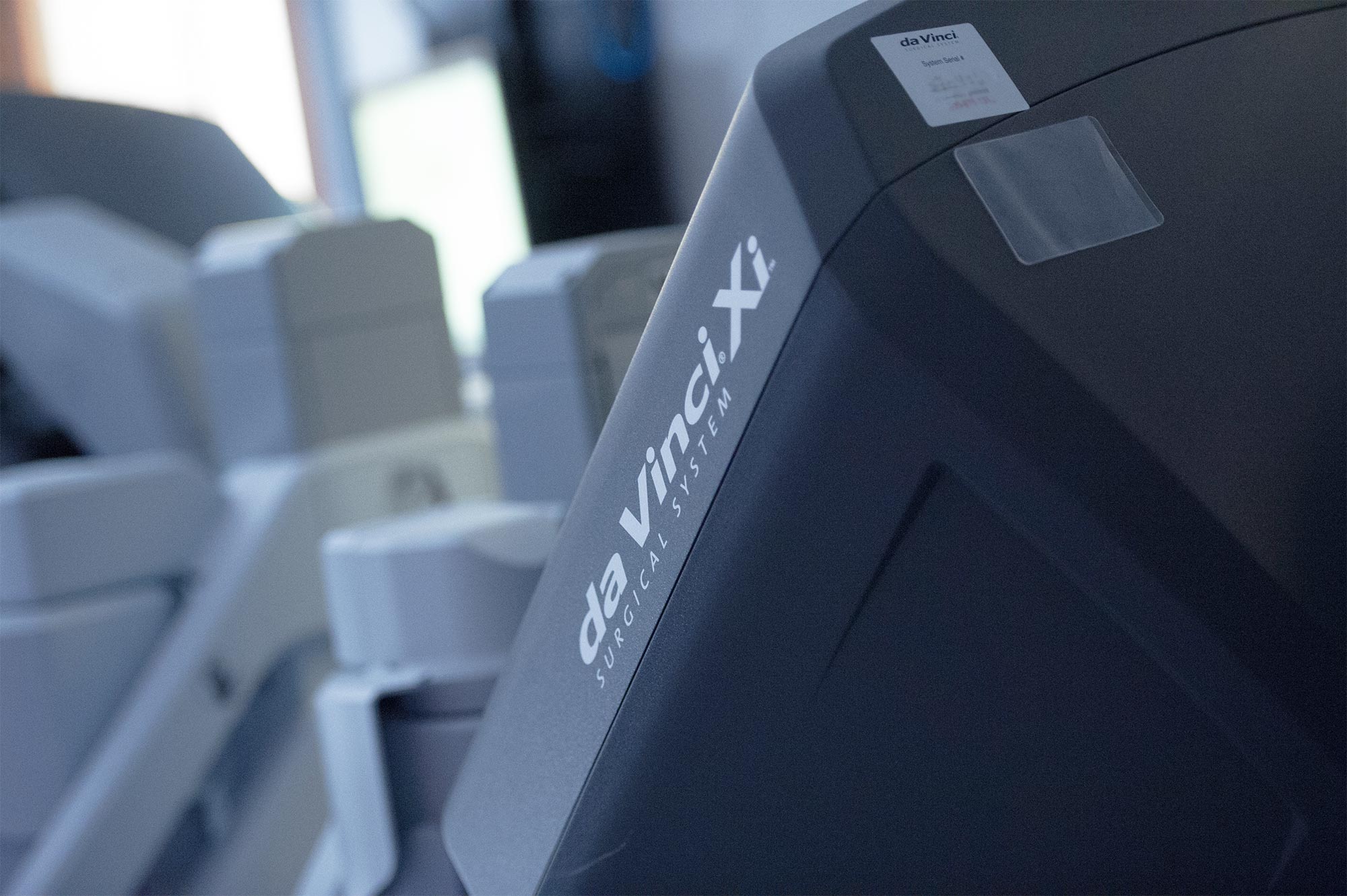 All three of our general surgeons are trained  to use the da Vinci robotic surgical system, the most advanced minimally invasive operative platform out there. In fact, we were the first hospital in the Southeast to add a second robot but even more impressive, our facility is the first of 159 Community Health Systems hospitals in the nation to add a third da Vinci robot in the operating room. This is big news for several reasons. With greater access to this incredible technology, patient wait times decrease while patient satisfaction and superior clinical outcomes are sure to increase.
The da Vinci surgical system uses state-of-the-art robotic, computer and optical technologies to assist our surgeons during your operation. Your surgeon will sit beside you at a computer console, using hand controls to manipulate surgical tools attached to the robot. However, the robot is not automated. The surgeon is in complete control, making all decisions and movements throughout the surgery. The imagery the surgeon sees is three-dimensional, high-definition and magnified — offering superior vision and precision. Unlike traditional laparoscopic instrumentation, da Vinci instruments are equipped with mechanical "wrists" that bend and rotate even better than  a human wrist, enabling your surgeon to make tiny, precise movements to perform your procedure. Robotic technology also eliminates tremor, or unsteady hands, which allows for even greater accuracy.
At Wiregrass Surgical, we have the ability to collaborate on complex cases and provide the absolute best outcome. This is because we have two surgeon consoles in our da Vinci operating room, so one surgeon can consult another, while both have the ability to see 3D, magnified anatomy. Most general surgeons do not have the advantage of two consoles.
Our newest robot  from the da Vinci platform is the Xi. We were the first in the Wiregrass and second in the state of Alabama to get it. This latest rendition boasts improvements like better anatomical access from any position, and smaller "arms" with joints that have a greater range of motion. These improvements lead to the ability to do more complex cases, a significant reduction in pain and narcotics needed following surgery, less blood loss, decreased operative time, and smaller incisions with minimal scarring.
Laparoscopic vs. Robotic: What's the difference?
Traditional "open" surgery involves one large incision to perform a procedure. In contrast, laparoscopic and robotic surgeries are considered "minimally invasive" techniques. Both offer the advantages of less blood loss, less pain, less-noticeable scars, shorter hospital stays and faster recovery. You and your surgeon can decide which is the best choice in your particular case.
Laparoscopic surgery: After making several small incisions, your surgeon inserts a video camera and other small instruments to perform the procedure. As your surgeon watches the video imagery on a screen, he or she manually manipulates the instruments. There are some limitations: the video images are only two-dimensional, and the surgical tools may have a limited range of motion — back and forth, up and down — so laparoscopic surgeons use tactile sensations like pressure to maneuver the tools.
Robotic surgery: Like laparoscopic surgery, robotic surgery involves several small incisions, a video camera and instruments. Unlike laparoscopic surgery, your surgeon is stationed at a computer next to the operating table, using hand controls to manipulate the instruments — built into the robot — rather than directly contacting the instruments by hand. The advantages over laparoscopic surgery include 3D high-definition, magnified imagery, and greater range of motion from instruments that can pivot in a greater range of motion than the human wrist. These differences result in less tissue disturbance, less bleeding and less post-operative pain than with laparoscopic surgery.
Faster Recoveries, backed by clinical evidence
The benefits of robotic surgery here at Wiregrass Surgical are real. We have documented clinical evidence to back up our words. Numbers don't lie, and here are a few profound ones.
Hernias: Robotic vs. Open: On average, our surgeons have reduced the length of hospital stay for a robotically repaired hernia by 7 days when compared with a traditional "open" surgery approach.
Hernias: Robotic vs. Laparoscopic: Our surgeons have reduced hospital stays for robotically repaired hernias by 3 days when compared to laparoscopic hernia procedures.
Colectomies: Robotic vs. Open: We've reduced the length of hospital stays by 9 days on average per patient compared to traditional approaches.
Outcomes matter, especially to you. Shorter hospital stays mean you get to go back to the office, back to the gym, back to being a parent, and back to life sooner.
When you combine our results with our genuine concern for your wellbeing, we hope you choose Wiregrass Surgical to meet your surgical needs.