Our Breast Care Program
From assessment to surgery to aftercare, we're here to help you survive and thrive.
Breast cancer is the second leading cause of death among women.
That statistic gets us fired up here at Wiregrass Surgical. As our patient, you'll receive the gentle compassion and support you need from our experienced team of surgeons and breast health experts. But your cancer will receive a full-on fight. Our goal is to make sure that you're among the current 3.1 million¹ breast cancer survivors here in the U.S.
Breast Cancer at a Glance
Breast cancer happens when cells divide and grow out of control. If these abnormal cells grow within the milk ducts only, this type of cancer is called ductal carcinoma in situ. If the cells grow deeper into the breast tissue, that's called invasive breast cancer. When invasive breast cancer spreads to other organs in the body, it's further defined as metastatic breast cancer.
The Risk for Women vs. Men
Although women and men both have the potential to develop breast cancer, the lifetime risk for men here in the U.S. is about 1 in 1,000, while the number rises to 1 in 8 for women.²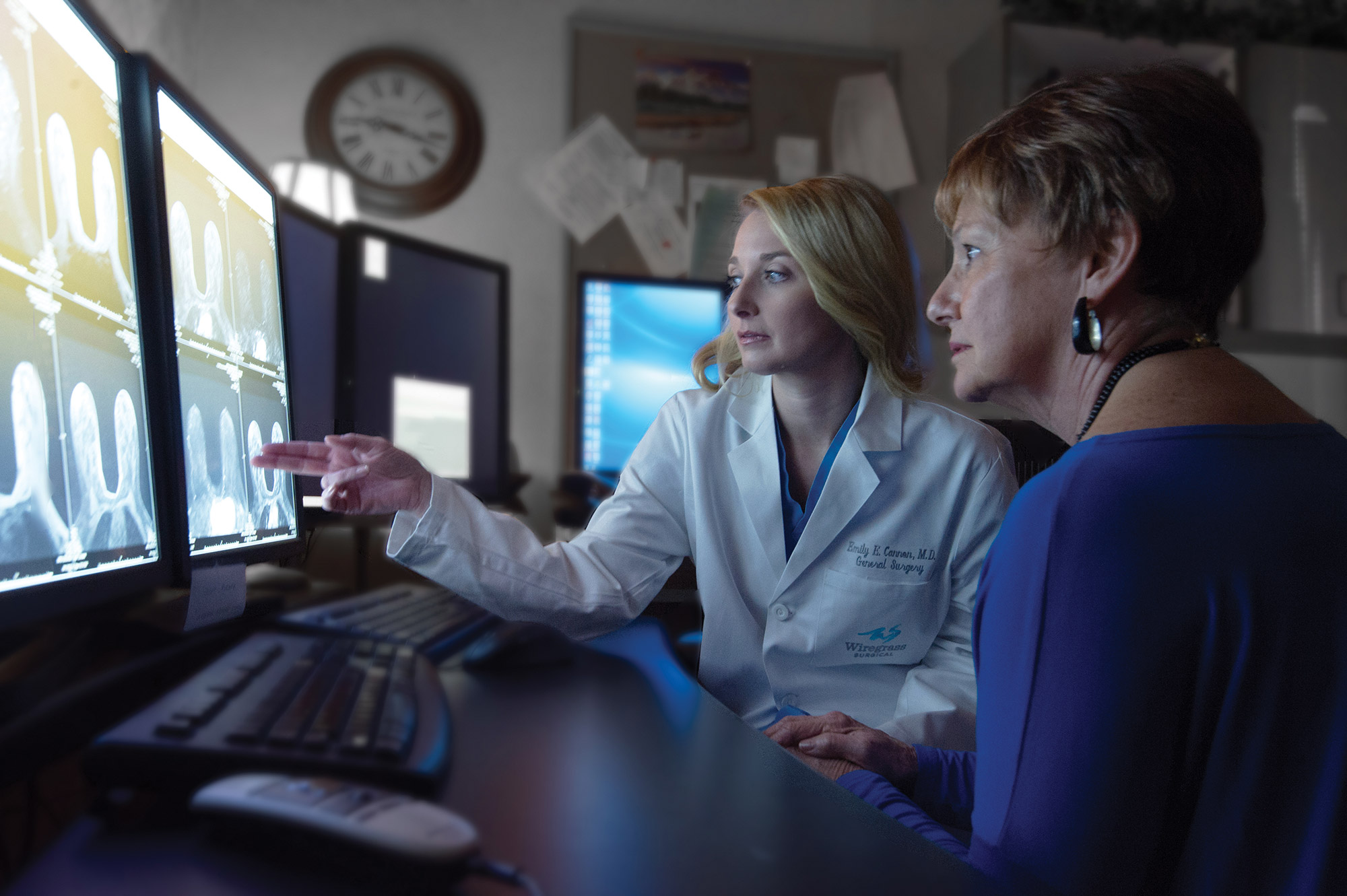 It takes a village.
The general surgeons at Wiregrass Surgical specialize in the diagnosis and treatment of breast cancer. Our approach is comprehensive and collaborative. We team up with your pathologist, oncologist, radiologist, and plastic/reconstructive surgeons to create a personalized plan for your care. After all, we're in this together.
The goal of treating breast cancer early is to destroy the cancer and stop it from coming back. Your treatment plan will be tailored to your specific type of breast cancer, the stage of the cancer, your age and overall health, and your personal preferences. Together we'll come up with the right plan for you.
Full-circle services
We offer genetic testing, diagnostic screenings and complimentary hereditary cancer risk assessments because we know that early detection helps lead to improved survival rates. Whether a mastectomy is needed or it is appropriate to perform breast conservation surgery — removing just a portion of the breast tissue rather than the entire breast — your care doesn't stop after the surgery. We'll walk with you through follow-up aftercare support for your entire lifetime. It's a complete circle of care that just seems right to us.
Risk assessment
Genetic testing
Diagnostic screenings
Surgery when necessary
Breast conservation, such as a lumpectomy, when appropriate
Collaboration with pathologists, oncologists, radiologists, and plastic/reconstructive surgeons
Follow up aftercare and continual support for the lifetime of the patient
Give us a call.
If you're unsure whether you are at risk, if you become suspicious of a lump or knot in or around the breast, or if you have a family history of breast cancer or any other known risk factor contributory to breast cancer — please call 334.793.1534 to schedule an appointment to see one of our experienced surgeons. For more information about breast cancer in general, visit the Susan G. Komen for the Cure website.
Prior to your appointment, remember to take our Hereditary Cancer Risk Assessment online. Even if you don't have an appointment, you're welcome to use this tool to assess your risk of cancer. Depending on the results, you may or may not need to see us. The key is being aware of your risks, because as we say around here, "Knowledge is power." To learn more about the assessment click here.
¹Howlader N, Noone AM, Krapcho M, et al., editors. SEER Fast Stats, 1975-2013. Bethesda, MD: National Cancer Institute. http://seer.cancer.gov/faststats/, 2016.
²American Cancer Society. Breast Cancer Facts and Figures 2015-2016. Atlanta, GA: American Cancer Society, 2015; and American Cancer Society. Breast cancer in men.http://www.cancer.org/Cancer/BreastCancerinMen/DetailedGuide/breast-cancer-in-men-key-statistics, 2015.