Wiregrass Surgical Hereditary Cancer Risk Assessment: Who, When and Why we Test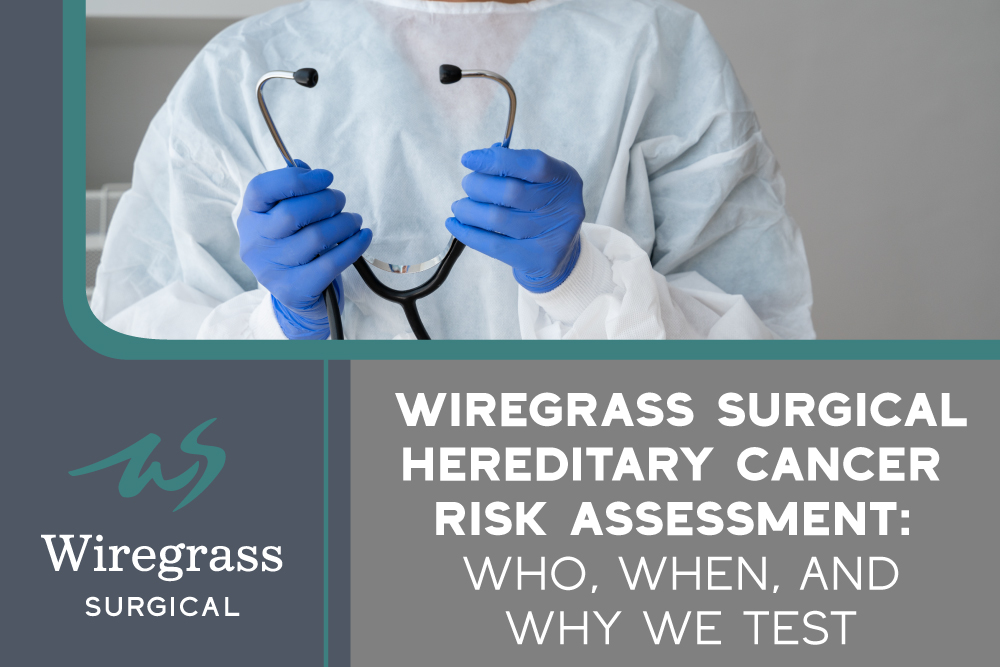 Did you know that 5-10% of all cancers are hereditary? When cancer is hereditary it's caused by an abnormal gene passed down from generation to generation. So it's not actually the cancer being inherited, it's the gene itself.
At Wiregrass Surgical, we believe that knowledge is power. We offer our patients hereditary cancer risk assessment services. We work to empower the Wiregrass community with results that could save their life or the life of a friend or family member.
After investing more than 1,200 hours in training and making site visits to other specialties across the state that offer similar solutions, we saw with our own eyes how important these results are and knew that we wanted to bring this to our patients and practice.
MyRisk Hereditary Cancer Test
Wiregrass Surgical offers the MyRisk Hereditary Cancer Test that can determine your inherited risk of developing 11 different types of cancer including:
Breast cancer
Ovarian cancer
Endometrial cancer
Prostate cancer
Melanoma
Pancreatic cancer
Gastric cancer
Colorectal cancer and more
The Myriad Genetics MyRisk Hereditary Cancer Test is a scientific advancement revolutionizing hereditary cancer testing by blending genetic test status and personal family history, to produce a personalized hereditary cancer panel.
By understanding your cancer risks you can identify cancer at earlier stages, giving you a better chance to treat and prevent secondary cancer as well. The MyRisk test is available for both men and women and is done in office by collecting a blood or saliva sample from the patient using a special kit which is shipped out to testing facilities for analysis.
Your results will be available within 4-6 weeks and our doctors can help give you valuable information to help understand your risks, prevent cancer and help identify cancer if it does arise, earlier.
It is important to schedule yearly wellness visits with your general practitioner, as well as to stay on top of important cancer screenings.
Wiregrass Surgical can offer hereditary cancer risk assessment, as well as help you schedule both your mammogram and your colonoscopy.
Learn more about why genetic testing should be a part of your mammogram in helping detect breast cancer.
Take a quiz online
Interested in getting a quick look at whether you are at an increased risk for developing certain types of cancer?
Take the Hereditary Cancer Quiz online now.
Call or schedule an appointment with a doctor to do your MyRisk Hereditary Cancer Test.