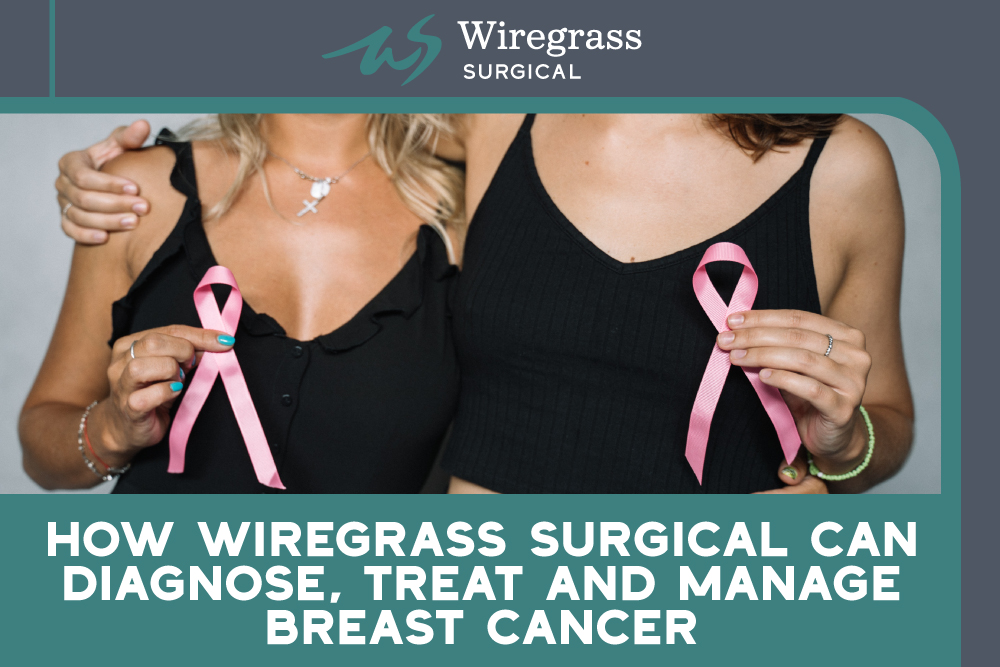 Breast cancer is the most common cancer in women in the U.S., except for skin cancer. It accounts for 1 in 3 of all new female cancers each year and the American Cancer Society estimates that more than 297,000 new cases of invasive breast cancer will be diagnosed in 2023. 
While these statistics can seem scary, there are more than 3.8 million breast cancer survivors in the U.S. alone, so with early intervention and treatment it can be very curable! 
Many patients don't realize that our board certified general surgeons specialize in diagnosing and treating breast cancer. Our approach is both comprehensive and collaborative– working with some of the best teams of oncologists, pathologists, radiologists and plastic surgeons in the region. 
The roadmap to becoming a patient
Our breast cancer patients are special to us because they are patients for life. We often meet them when they are diagnosed, and treat and follow up with them for the remainder of their life, which is something we value immensely.
So how do patients end up in our office? Well, usually someone has noticed a lump in the breast and has gone to either their OBGYN or primary care doctor for evaluation. From there they are referred to us or are scheduled for a mammogram or breast ultrasound. Once a patient has an abnormal mammogram or screening, they are sent to us for further investigation and diagnosis.
Diagnosing & surgically removing breast cancer
Many times, our patients meet with their surgeon at Wiregrass Surgical first, before they meet with an oncologist. This is because the surgeon focuses on discussing how to remove the tumor and will then refer all questions about follow-up chemotherapy and maintenance to the oncologist. (Or vice versa if the patient meets with the oncologist first).
Surgical biopsies are helpful in diagnosing breast cancer and are performed by our general surgeons who perform fine needle aspirations (FNA), core needle biopsy and other biopsies such as large core biopsy (ABBI) or vacuum-assisted biopsy. 
If you have localized breast cancer, our general surgeons almost always perform lumpectomies or mastectomies to remove the cancer. Mastectomies are the most common breast cancer surgery because they treat both late stage and early stage cancer.  A lumpectomy removes only part of the breast tissue that contains the cancer cells and some of the surrounding normal tissue. It is usually best for treating early stage breast cancer. Your surgery will depend on many factors including your age, health, genetics, personal preference. Learn more about surgical options for breast cancer in our latest blog post. 
Breast cancer related services
Wiregrass Surgical offers the following tests and services related to breast health, breast cancer prevention and breast cancer treatment including:
Risk assessment

Diagnostic screening

Genetic testing

Breast surgery

Breast conservation 
If you are unsure if you are at risk, or notice a questionable lump or knot around the breast, call our office today at 334-793-1534 to schedule an appointment. 
If you have a family history of breast cancer, take our Hereditary Cancer Risk Assessment online to help assess your risk of getting breast cancer in the future. Learn more about genetic testing and who, when and why we test our patients.