Cancer prevention lifestyle recommendations before, during, and after being diagnosed with high-risk breast cancer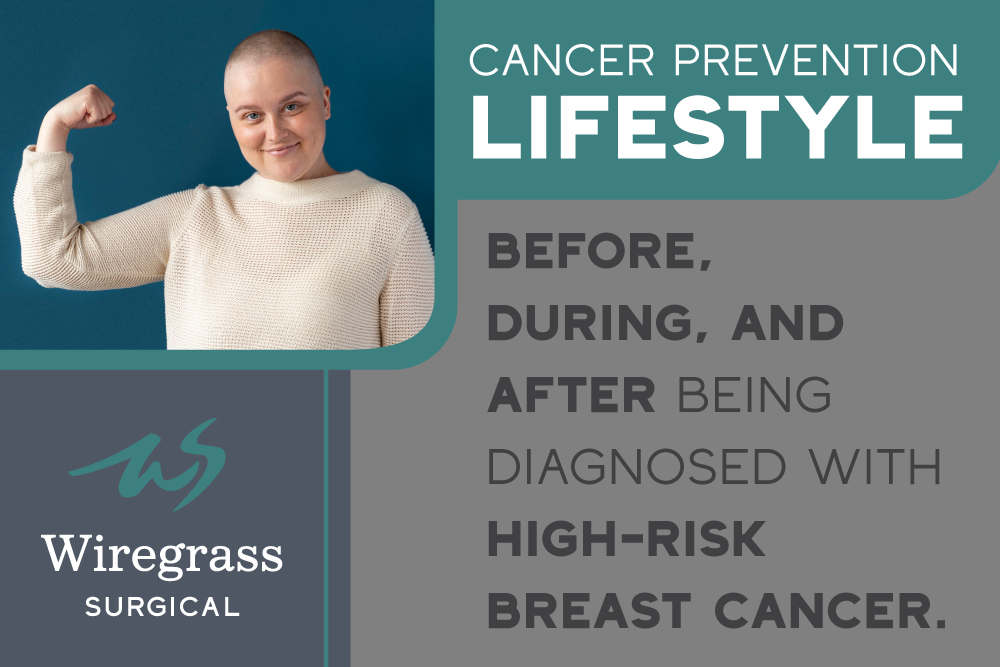 A recent study published in May 2023, by the journal JAMA Network Open, provided cancer prevention lifestyle recommendations for those before, during and after being diagnosed with high-risk breast cancer that decreases the chances of recurrence and death.
The research in the article "Adherence to Cancer Prevention Lifestyle Recommendations Before, During and 2 Years After Treastment for High-risk Breast Cancer," found that women diagnosed with high-risk breast cancer who most closely followed cancer prevention lifestyle recommendations from the American Cancer Society and the American Institute for Cancer Research were the least likely to have the breast cancer come back (recurrence) or to die from breast cancer.
The most recent recommendations include:
maintaining a healthy weight 

exercising regularly: 150 to 300 minutes of moderate-intensity exercise a week and two days of strength training a week. 

eating a balanced diet including a variety of vegetables, fruits, and whole grains and limiting red and processed meats, fast food, and other highly processed foods.

avoiding or limiting sugar-sweetened beverages 

avoiding or limiting alcohol to one drink or less a day 

avoiding smoking
Although there are a lot of studies done that show how to reduce the risk of developing cancer, there have been few studies that look at outcomes after a person is diagnosed. So researchers decided to investigate this. 
They studied 1,340 women who were diagnosed with high-risk breast cancer defined as stage I to stage III, node-positive, hormone receptor negative, larger than 1 centimeter, or any breast cancer larger than 2 centimeters. The average age of the women was 51.3 and included a variety of races and demographics.
The women filled out a questionnaire about their lifestyle choices four times during the study. This included being asked about lifestyle choices one month before being diagnosed, when they completed treatment, during treatment, one year after joining the study and two years after joining the study. 
They were asked about their ability to meet the seven lifestyle recommendations:
exercising regularly 

maintaining a healthy body mass index (BMI) 

eating a colorful variety of fruits and vegetables 

limiting red and processed meat 

limiting sugar-sweetened drinks 

avoiding alcohol 

avoiding smoking
The average follow-up time was 7.7 years. And during the follow-up they found that: 310 women had a breast cancer recurrence and 222 women died. 
The researchers' analysis found that lower recurrence risk was linked to: strongly or partially following the exercise and smoking recommendations and strongly following the fruit and vegetable and sugar-sweetened drinks recommendations.
The lower risk of dying was linked to strongly following the exercise, smoking, fruit and vegetable, and sweetened drinks recommendations and strongly or partially following the red and processed meat recommendations.
Even though about 5-10% of breast cancers are hereditary, it's important to keep these lifestyle recommendations in mind! Especially if you have recently been diagnosed, treated or have beat breast cancer yourself! 
If you would like more information about knowing and understanding your hereditary risk of breast cancer, call our office today to schedule an appointment. 
Our surgeons help diagnose, treat and follow breast cancer patients once they have received treatment and/or completed surgery.
Learn more about how our surgeons help breast cancer patients throughout the Wiregrass community!