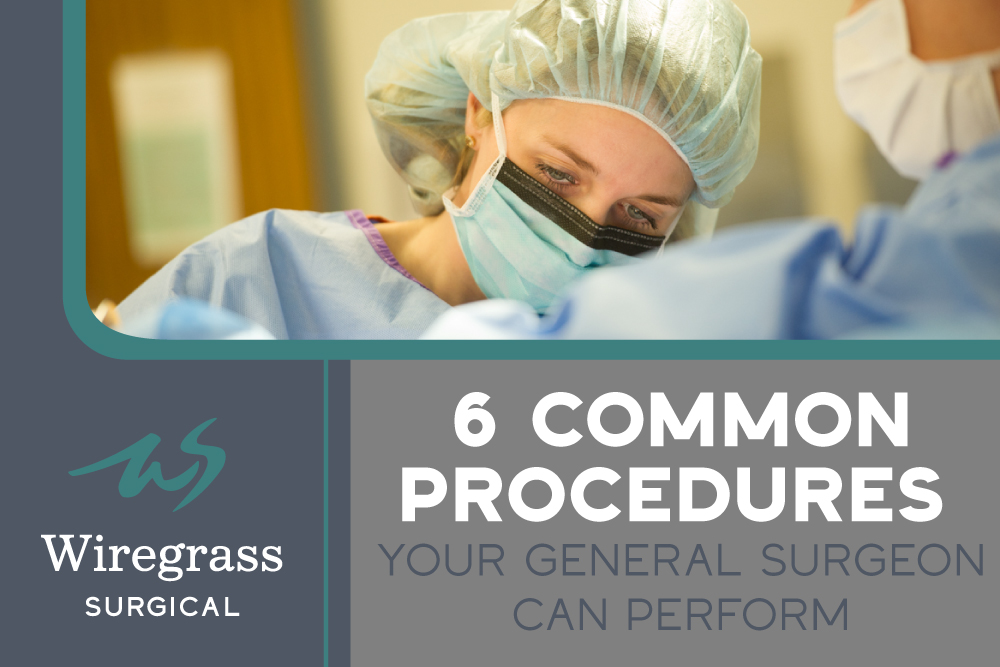 General surgery can cover many different organs and body systems, so a lot of patients wonder…
What does a general surgeon do? Why would you need a general surgeon and when would your primary doctor refer you to our office?
General surgery is a surgical specialty focused on the abdominal organs  (intestines, stomach, liver, esophagus, liver, pancreas, etc.), endocrine organs (thyroid, parathyroid and adrenal glands) and blood vessels (abdominal aorta).
Our general surgeons use surgical procedures to remove cancer, disease, repair injuries and promote healing. Our general surgeons typically focus on treating areas of the abdomen, breasts, endocrine system glands and digestive organs. 
Dr. Pfeiffer, our vascular surgeon, however, is a specialist trained to treat diseases of the arteries and veins outside of the heart. He helps promote the prevention and treatment of vascular disease using the most advanced techniques and technology.
Here are 6 common procedures our general surgeons can perform…
1.) Appendectomy. Most of our patients with appendicitis present in the emergency room with pain in the abdomen and realize they need to have their appendix removed. The appendix is a small pouch connected to the large intestine that can become infected or inflamed. Our surgeons are the ones consulted to assess and surgically remove the appendix. 
2.) Breast surgery. If you have an abnormal mammogram, or doctors suspect breast cancer, you'll probably be referred to our office. Our surgeons can treat non-cancerous tumors as well as perform common breast surgeries including a breast biopsy, lumpectomy and mastectomy. Learn more about your surgical options for breast cancer. 
3.) Esophageal surgery. The esophagus runs from the mouth to your stomach and plays a crucial role in the digestive process. Many diseases can be treated with medication but some require surgical treatment. Surgeries include:
Acid reflux surgery

Esophagectomy
4.)Gastroenterology procedures. Our general surgeons are trained to diagnose and treat certain gastrointestinal disorders and can perform the following procedures:
Upper GI endoscopy, or EGD. This screening test can help determine symptoms of chest pain, nausea, heartburn, and trouble swallowing, as well as detect inflammation, hernias, tumors, and ulcers.

Colonoscopy. Learn more about

when and why you should schedule yours today

!

Weight loss surgery. Bariatric surgery is performed on the stomach or intestines to promote weight loss. Learn more about

if you're a candidate

and

how it can change your life

from the perspective of one of our patients.  
5.) Gallbladder removal. A cholecystectomy is the removal of the gallbladder that can help treat gallstones or prevent infection or gallbladder cancer. 
6.) Hernia repair. Hernias can bulge into the groin, belly button, or chest and cause a lump to appear. During a hernia repair, our surgeons use the latest techniques and technology to put the protruding organ back in place and to fix the weakened area of muscle or tissue so it does not reoccur. 
If you have been diagnosed with any of the above, or are showing signs and symptoms of pain in the abdomen, call our office today to schedule an appointment with one of our general surgeons! 1.800.464.7951