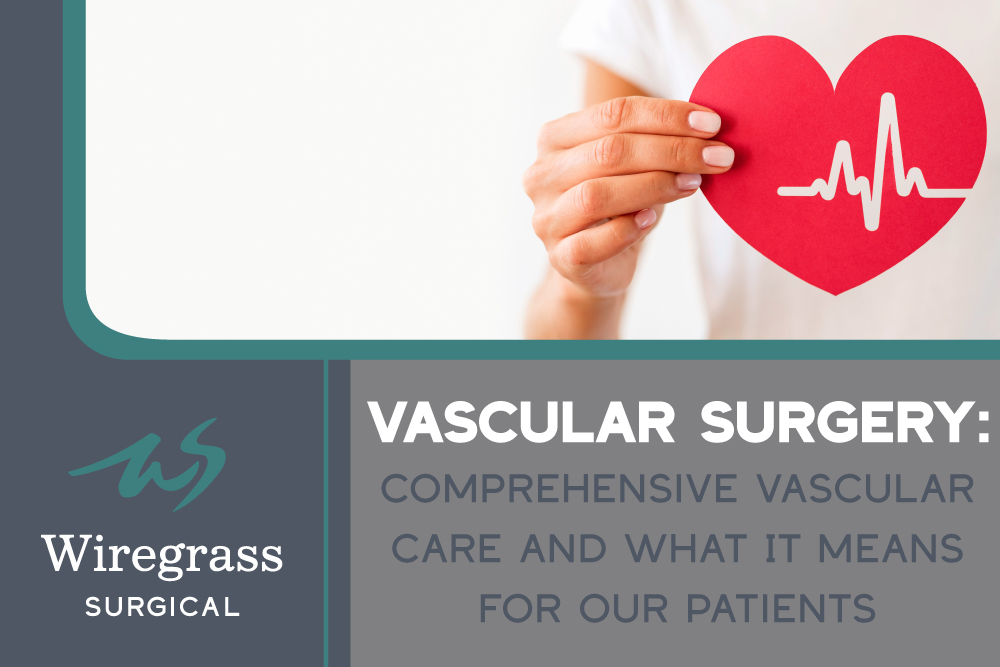 Vascular surgeons are general surgeons that are highly trained to treat diseases and problems with the vascular system. Blood vessels including arteries (that carry oxygen-rich blood) and veins (that carry blood back to the heart) make up the circulatory system and without blood flowing smoothly between them, the body cannot function.
Things like blockages or hardening of arteries can obstruct the blood flow to any part of the body, causing pain and health problems.
You have more than 60,000 miles of blood vessels throughout the body made up of veins, arteries and lymphatic vessels, and it is a vascular surgeon who is an expert on treating these. They understand how each works and what can go wrong with them.
Vascular surgeons help diagnose and manage vascular disease so you can live a long, comfortable and productive life.
Here's what you should know about comprehensive vascular care and what our vascular surgeon at Wiregrass Surgical does for our patients…
A vascular surgeon treats diseases and problems that affect blood vessels.
This includes conditions such as:
Aortic aneurysms

Atherosclerosis

Carotid artery disease

Venous insufficiency

Blood clots and deep vein thrombosis (DVT)

Diabetes-related foot ulcers

Dialysis access

Endoleak

Stroke

Intestinal ischemic syndrome

Peripheral artery disease

Popliteal artery entrapment syndrome

Varicose veins

And

more
A vascular surgeon does a variety of procedures.
Vascular surgeons do much more than just operate. They can see and treat patients with vascular problems who don't require surgery as well. Vascular surgeons are trained to do a variety of procedures from open, complicated surgery to minimally invasive, endovascular procedures. 
Vascular surgeons see patients both in office and outpatient. They can perform surgeries to prevent stroke and aneurysm rupture and help clean out blocked arteries.
Non-invasive vascular diagnostic services  Dr. Pfeiffer offers include:
In-office diagnostic ultrasounds

Routine disease management studies

Venous insufficiency evaluations

Varicose vein evaluations
See a full list of surgeries and procedures here.
Vascular surgeons treat veins and arteries throughout the body except for those in the brain and heart.
A vascular surgeon can treat blocked carotid arteries in the neck, or treat problems with the aorta after it leaves the heart and enters the abdomen. Peripheral arterial disease (PAD) usually affects arteries in the legs and feet and can be treated by a vascular surgeon.
How do I know if I need to see a vascular surgeon?
Usually patients are referred to a vascular surgeon by a primary care physician, and sometimes they are admitted or referred to our office through the emergency room. You may be referred if you have pain, swelling or discoloration in your legs, have a non-healing extremity wound or ulcer, learn that you have peripheral arterial disease or are a smoker, diabetic and/or have high blood pressure and need a vascular health screening.
To book an appointment with Dr. Pfeiffer, call our office or fill out the form today and we will contact you soon!