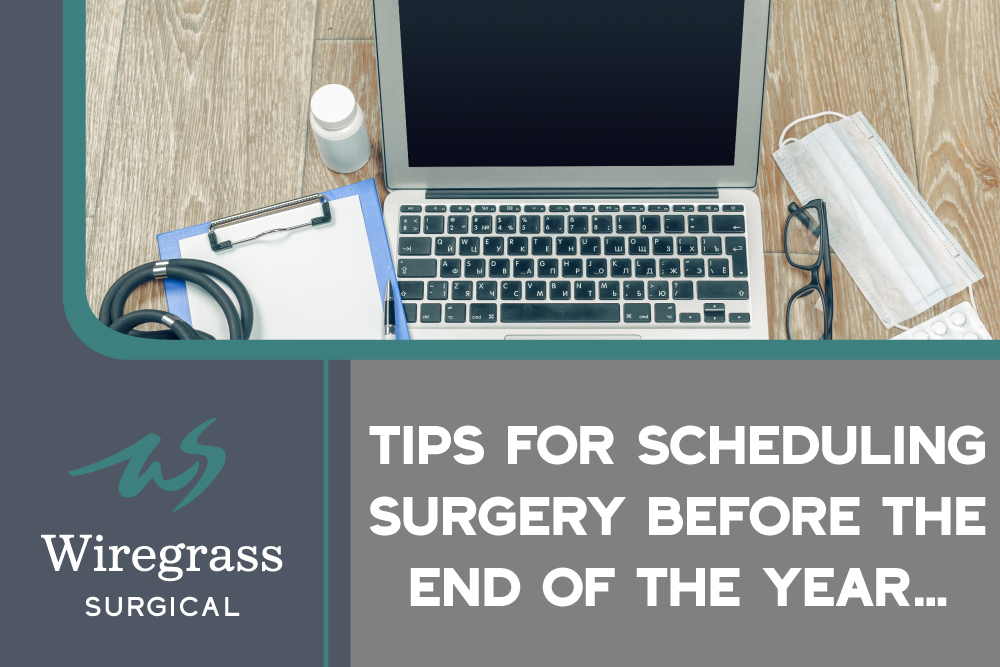 If you've thought about scheduling surgery before the end of the year or during the winter holidays, it's best to schedule it now by setting up an appointment with one of our surgeons. 
Our doctors who book non-emergency surgeries are usually busier during the months of November and December as more and more people try to get the most out of their high-deductible insurance plans. 
Why does the end of the year matter?
End of the year surgery is important from an insurance perspective because insurance policy limits are based on a calendar year and they roll over January 1. For example, if you've already used most of your insurance policy, you may only have a small out-of-pocket expense left. And if that's the case, scheduling a surgery before the end of the year could be more beneficial from a financial standpoint, then waiting until next year. 
Many common surgeries patients will consider booking before the end of the year include:
Colonoscopies

Hernia repairs

Anti-reflux surgery

Gallbladder removal

Varicose vein ablation and/or treatments 
How much will you pay?
First of all, it's important to check with your insurance company and discuss the specifics of your policy. Let them know what procedure you're looking at having and they can give you an idea of your out-of-pocket expenses. Our insurance and financial staff also work with our patients and insurance companies and can help you find this information out! 
Why Wiregrass Surgical?
Our surgeons are rooted in and committed to serving the community, and have built a practice with reputations based on results, relationships and a blend of surgical precision with technological advances. Our surgeons aren't just trained in advanced surgical techniques, they're advancing the knowledge and field of surgery. They've brought new medicine and surgical solutions to the Wiregrass and surrounding areas to provide the best care for each and every one of our patients. 
When it comes to robotic surgery, Wiregrass Surgical is one of the top performing practices in the southeast as well. Learn more about how you can benefit from robotic surgery. 
Call our office today to set up an end of the year appointment or surgery!