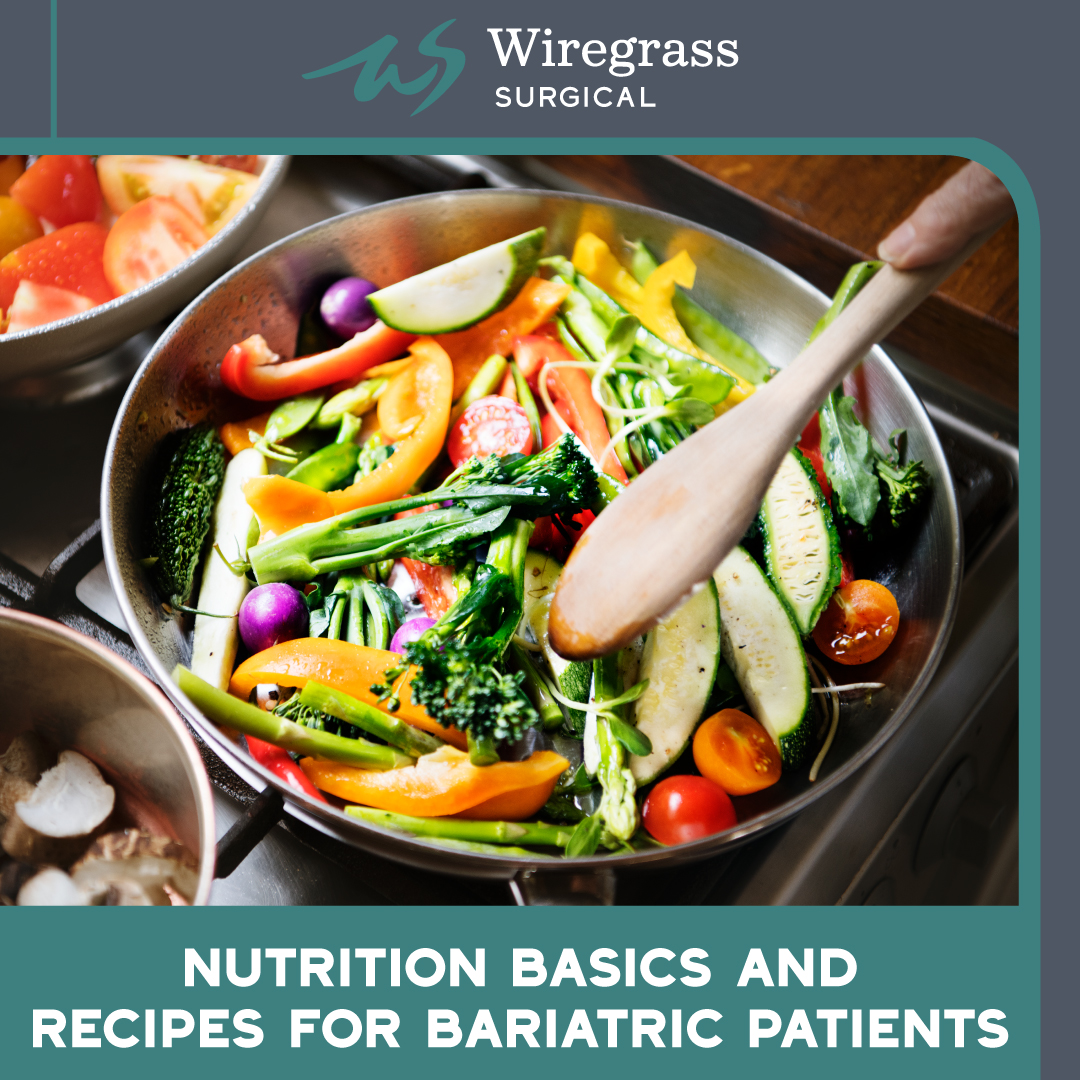 After bariatric surgery your meal portions will be much smaller. This, combined with a new diet will help you progress with your weight loss goals in a healthy manner. It's important to remember to eat a variety of foods to help you get the adequate protein, vitamins and minerals you need as well. 
To help add variety into your diet, we've compiled a selection of recipes from snacks to meals and even desserts that are easy to prepare, yummy to eat and nutritious!
Check them out…
Appetizers and snacks
Breakfast
Lunch and Dinner
Desserts
BBQ Salmon Ingredients
4 salmon fillets (6 ounces each)
Marinade Ingredients
¼ cup pineapple juice
2 tablespoons fresh lemon juice
BBQ Rub Ingredients
2 tablespoons brown sugar
4 teaspoons chili powder
2 teaspoons grated lemon rind
¾ teaspoon ground cumin
½ teaspoon salt
¼ teaspoon cinnamon
Instructions for Cooking BBQ Salmon
Preheat oven to 400 degrees.

Combine the pineapple juice, lemon juice and salmon fillets in a resealable bag. Marinate in the refrigerator for one hour, turning occasionally. Remove the salmon from the bag and discard the marinade.

Combine the remainder of the ingredients and BBQ spice rub over the fish. Place fillets in a baking dish coated with cooking spray.

Bake for 12-15 minutes or until the desired doneness. For crispier edges, cook for between 20-30 minutes, depending on your oven.

Serve with lemon slice garnish and sliced grilled pineapple (optional)
Nutritional Analysis Per Serving
Calories: 225
Fat: 6 grams
Protein: 34 grams
Carbohydrate: 7 grams
Cholesterol: 88 milligrams
Sodium: 407 milligrams
Sugar: 6 grams
Easy Low Carb Lasagna
Servings: 12   Calories: 250  Fat: 12g  Carbs: 19g  Protein 13g
Ingredients:
32oz low fat ricotta or cottage cheese
1t garlic powder
1t dried oregano leaves
4-5 low carb tortillas
2 24 ounce jars of marinara sauce
1c lite mozzarella cheese, shredded
Instructions:
Preheat oven to 350 degrees F

Mix ricotta/cottage cheese and seasonings in bowl

Layer lasagna in this order in a 9×12 pan: sauce, tortillas, cheese. Repeat. End with sauce on the top. Sprinkle with mozzarella cheese

Cover lasagna with foil and bake for one hour or until heated through. Allow lasagna to stand for 5min then cut into 12 squares
NOTE: You can also add cooked vegetables like squash, eggplant, onions and peppers. Make sure excess water is squeezed out of the cooked vegetables first. 
Cake Batter Protein Balls
Recipe by: Amy Roskelley of Health Beet
Makes 4 protein balls
Prep: 5 minutes; Total: 5 minutes
Ingredients
1 scoop vanilla protein powder

1/3 cup oats

2 tablespoons almond butter

1/2 teaspoon cake batter extract

1 tablespoon Almond milk (vanilla unsweetened)

1 dash sprinkles
Directions
Mix all ingredients together and form into four balls. Chill until ready to eat.
Nutritional Info: 1 Protein Ball
Calories 101; Carbohydrates 6 grams; Fat 5 grams; Protein 9 grams