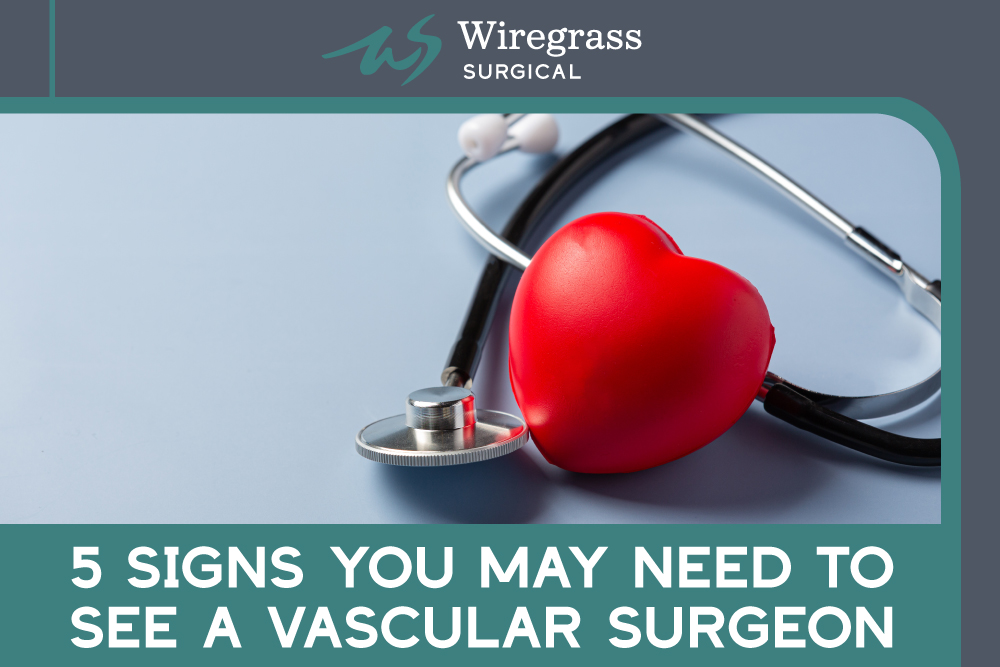 Do you know how healthy your circulatory system is? 
You may not have thought about it before, but healthy blood vessels, veins and arteries are an important part of your overall well being. After all, your circulatory system is responsible for making sure all organs and tissues receive adequate blood supply.
So how do you know if you have vascular disease or other vascular health problems? Well, if you have any of the risk factors below, it may be a good idea to get a vascular screening test…
Are you over the age of 60?

Are you more than 50 with a history of diabetes and smoking?

Are you under age 50 but have a history of diabetes or other health challenges such as obesity, coronary artery disease or high blood pressure?
Vascular disease affects the circulatory system outside of the heart. Vascular disease can be a silent threat because many symptoms are sudden or don't present at all. 
Here are 5 signs you need to see a vascular surgeon…
You have pain in your legs when you walk.

Sometimes called "window shopping pain," claudication can be a symptom of vascular disease. This is pain and soreness when you are walking for a brief time, that is relieved when you stop or rest. This is usually a symptom of

peripheral arterial disease

or PAD, which affects nearly 20 million people in the U.S. It usually means your legs are not getting enough blood while you walk.

Ulcers and pain while resting

are advanced signs of PAD. If you experience pain while walking or at rest, you should see a vascular surgeon to make sure you have adequate blood supply to your legs. Tests may include an ultrasound or blood pressure check in your legs.

Your legs are swollen, achy and discolored.

Venous diseases, or diseases of the veins can cause ropey blood vessels, varicose veins or spider veins. Sometimes they are cosmetic, but when they are painful it can indicate a more serious underlying vascular condition. Deep venous disease can also cause blood clots.

Gangrene.

Gangrene is when soft tissue in your body dies, usually because it's not getting enough blood from your circulatory system. It usually starts at one place in the body and can spread and/or cause shock if left untreated.

Non-healing extremity wounds or ulcers.

Often times, non-healing wounds are ulcers in the legs, feet or toes are caused by an untreated vascular issue and should be evaluated as soon as possible. 

Any sudden symptoms of pain, cramping, swelling, cold or numbness.

Sudden changes or discoloration in the legs or feet should be evaluated as soon as possible. 
Our vascular surgeon, Dr. Pfeiffer, is the only board-certified vascular specialist in the Wiregrass region. He is an expert in conservative management of vascular problems and is trained to perform minimally invasive and operative options to treat vascular disease. 
Other procedures and services Dr. Pfeiffer provides include:
Non-operative and conservative management of vascular disease

Operative/surgical bypasses and limb salvage

Minimally invasive non-operative treatments with stents, balloons, removal of plaque, etc.

Surgically cleaning out of blocked arteries including the carotid and peripheral artery

Vascular wound care

Vein insufficiency evaluation and varicose vein treatment (vein ablation if needed)

Advanced endografts to treat abdominal aortic aneurysms including the

minimally invasive endograft procedure 

Dialysis access/AV loop

Balloon angioplasty and stent placement

Lower and upper extremity bypass surgery

Thrombolysis (DVT)

Amputation (the last resort)
If you are having any of the symptoms above, or just need a vascular health screening, call our office today or book an appointment.